View additional articles on Cervelo Cycles bike models here.
At Fit Werx, we spend a lot of time researching any product that we carry. While we lose some sales because we are not willing to always jump on the latest marketing bandwagon or just carry any brand people are interested in, we sleep well knowing that we offer our athletes products that work better, last longer and perform better. Even though we have access to other brands that we do not stock, these profiles are designed to help you understand the value we see in the brands we stock and why they are category leaders. With this in mind, please learn more about the company that arguably invented the aero tube and changed the bike industry forever – Cervelo Cycles.
Company Statistics
Cervelo Cycles Company Statistics:
Location: Canada.  While owned by a Dutch company, Cervelo was started in Canada and operations remain based in Toronto and Santa Cruz, CA.
Materials Used: Carbon Fiber.
Frame/Bike Point of Origin: Cervelo bikes are engineered and designed in Canada and manufactured in Asia.  Cervelo does have a R&D facility in the U.S. that produces limited runs of the top of the line bike, the Cervelo R5ca and the P5x is produced in conjunction with HED in Minnesota.
Delivery: Cervelo bikes offer Cervelo's stock/production frame geometry.  There are times when Cervelo's availability of their high demand product can be limited, but this has become less of an issue in recent years with new ownership.
Specialty: Cervelo makes no bones about it, they build race capable bikes for road and triathlon.
Unique Attributes: From the ground up, Cervelo bikes are designed to minimize weight, maximize lateral stiffness and be exceptionally aerodynamic.  No bike company has demonstrated as much focus on frame aerodynamics as Cervelo.

Web Site: www.cervelo.com
Pluses of Cervelo Cycles:
Engineering driven.  No major bike company has a higher percentage of engineers on their staff.
Originators.  No manufacturer has invested or knows more about aerodynamic tube shape and bike design than Cervelo.
Cervelo makes race capable bikes.
One of the most versatile and broadest fitting tri/TT frame geometry options on the market.
Focus.  Road and tri bikes are what Cervelo does.  Do you want a bike designed and built by a company that is trying to do it all or one from a company that is focused on building bikes for the type of riding you are doing?
Static 73 degree seat tube angle philosophy bridges all road frame sizes and offers small size frame options that fit different from any other production bike. Cervelo's frame geometry tends to follow a very linear and smooth stack and reach progression across the sizes.
Looks.  We'll admit that aesthetics and emotion count for something and Cervelo makes fast and sexy looking bikes.
Considerations of Cervelo Cycles:
Some Cervelo models can be more race oriented than some consumers want.  Choose a model that makes sense for your use and fit needs.
Cervelo has markedly improved the fit of their bikes in recent years.  This being said, there is not a single production bike company that fits everyone well.  Cervelo bikes fit certain riding positions well and do not fit others.  Get fit first and make sure a Cervelo fits you well before you get one.
If you want to use a tire that measures 35mm or wider, a Cervelo may not be your bike.  C-Series bikes can accept tires up to 34mm of actual width (different from listed width, depending on the rim it is mounted).
No custom option.  Cervelo builds production frames/bikes.
Cervelo Cycles Overview/History:
Cervelo = "Brain Bike"
Cervelo Cycles was born in 1995 from a very competitive background.  Cervelo designers Gerard Vroomen and Phil White were hired by a top pro cyclist to build a faster TT bike. The result was the Cervelo Barrachi  –  to say it was a radical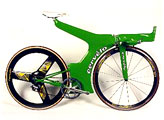 departure from the average bike would be a distinct understatement.   The Barrachi (possibly named after the Trofeo Barrachi, a two person TT in the early '90's?) was a full carbon frame that used a beam saddle design, radical deep aero section front and an integrated bar/fork/stem design – it was undeniably fast and hard to build.  If it were not for the UCI's restrictive parameters on what a bike should look like, this shape would be to pro cycling what the P3 is currently.  Why?  The design is likely aerodynamically faster, more vibration absorbing and stiffer than  anything designed since.  This being said, we live in a world where the UCI does regulate cycling and Phil and Gerard understood that.  In 1996 Phil and Gerard took their show live with the goal of presenting a true TT frame for the masses that met all UCI regulations currently and the changes that were slated for year 2000.   In 1996, the Cervelo Eyre and P2 rounded out the Cervelo TT models and the Eyre Road was introduced as the road bike.   Looking back on those bikes, over fifteen years later, you can see that Cervelo understood that if you want a truly aero frame, you need to pay attention to the details of your aero shape and aspect/chord ratio.
Things started out relatively slow for Cervelo Cycles, but their first few P2 models paid off in short order as the bikes went on to win a few National championships in Canada and Germany and people started asking just what these "Kurvelo" bikes were all about.  The start-up was moving forward and, in a few years, had made a real name for itself by producing the slipperiest UCI legal TT frames money could buy.  People liked the fact that you did not even need a whole lot of money to buy them and soon Cervelo started popping up in a forward thinking bike dealer or two.
You likely know most of the rest of the story – a few triathletes began riding Cervelo frames with great success and then a couple big name pro cyclists started using Cervelo frames for TT with their competing sponsors bike logo installed on the frames…  Cervelo sponsored Team CSC in 2003 and, for the first time ever, a company known for their TT/tri bikes (Cervelo) successfully bridged over to become one of the most recognized road bikes in the pro peloton.
So, is all this pro athlete success the reason you should consider a Cervelo and why we like them?   Not in the least.  When we picked up Cervelo in 2001, it was because of their focus on aerodynamic excellence and commitment to their engineering ideals and forward thinking.  These are the same reasons we carry Cervelo today and remain New England's oldest original Cervelo dealer.
Cervelo Cycles Line Overview:
Cervelo Cycles has three distinct lines of road bike offerings – "S", "R" and "C" – as well as the "P" line of TT/Tri bikes and the "T" series of track bikes.
"R" Series Road Bikes by Cervelo Cycles:
Cervelo "R" series road bikes are designed around creating a performance based chassis that provides as balanced a ride as possible.   By "balanced", we mean not focusing on just one or two variables at the expense of others.  The Cervelo "R" series bikes provide the smoothest ride, laterally stiffest platform, and lightest frames in Cervelo's offerings.   The R series bikes make an excellent platform for most enthusiasts and recreational riders as they do everything quite well – snappy drivetrain response, compliant and smooth ride, excellent main triangle torsional stiffness, a versatile geometry that fits a variety of riders well, low frame weight and better aerodynamics than standard round tubing are all hallmarks of Cervelo "R" series bikes.  From a fit perspective, the Cervelo R3 and R5 received some nice geometry changes (more stack and a little less reach) in 2011 that helped the bikes fit a wider array of riders well.
As of 2016, the workhorse Cervelo R3 is even available in both a caliper brake or disc brakes depending on your preference and use.
"S" Series Road Bikes by Cervelo Cycles:
At the time, it would have been hard to predict that the Cervelo Soloist, the first "S" series road bike, was starting a revolution when it came out.  While aero shaped road
frames are becoming rather common now, back in 2002 they were all but non-existent – "all but" the Cervelo Soloist, the first production aero shaped road bike.  That first year we sold more Cervelo Soloists that were used as tri bikes than we did ones that were used as road bikes. The aero tubing from the Cervelo P2K and the reversible seatpost, in combination with the geometry, actually made for a great tri platform that fit a number of athletes who did not fit on Cervelo's "P" bikes very well.  However, as time has gone on, there has been greater and greater interest in aero road frames and Cervelo has been at the forefront of this. The aluminum Cervelo Soloist eventually inspired the Cervelo Soloist Carbon and soon Cervelo was offering a few levels of aero road frame. Like when the P2/Eyre created the aero shaped TT/Tri bike category, Cervelo created a category with the Soloist that the rest of the industry has been chasing ever since. It is safe to say that aero road bikes are here to stay and we expect to see increased interest and growth in the category for years to come.
Today, Cervelo "S" bikes are characterized by a similar tube shape to the TT frames in combination with stout stays for a stiff and responsive drivetrain. In comparison to the Cervelo "R" bikes, the "S" bikes tend to have a slightly more rigid feel and the frames weigh slightly more (they are still plenty light though) due to the additional material required to make an aero tube shape.  However, the Cervelo S5, S3 and S2 are also very aerodynamic and this becomes apparent the first time you hit a nice long flat and start to put the power down – these are slippery fast frames that still have snappy and responsive drivetrains.  There is a reason that Fit Werx's own Dean Phillips rode a Cervelo S5 when he won the '12 Massachusetts State Road Championship. For the '17 season, Cervelo introduced the S3 Disc, which pairs the quickness of the S series frame with the power of disc brakes on the road. For 2019, the S5 went to disc brakes and a fully integrate front-end and both the 2019 S3 and S5 can take wider tires – so the progression of the S line continues.
From a fit perspective, the Cervelo S3 and S2 geometry fits the same as the revised Cervelo R3 and R5, but they also offer a multi-position seatpost that allows for steeper seat angles to be easily achieved. The Cervelo S5 has a little longer reach and lower stack compared to Cervelo's other road models.
"C" Series Adventure Road Bikes by Cervelo Cycles:
While Cervelo was a little late to the game when it came to introducing a dirt capable endurance road bike line, they came in with a bang when they did for the 2016 season. The Cervelo C3 and C5 took the engineering concepts from the established and very well regarded R series bikes and tweaked them to work as well as possible on a bike that is capable of accepting wider tires and is designed to be ridden on dirt or pavement roads. Cervelo Cycles has always made race capable performance oriented bikes. So, while the Cervelo C series bikes don't accept tires that measure over 34mm in width (when mounted), you can put a fairly wide tread on a C bike and take advantage of that same snappy and refined ride that has made the R series bikes so popular. The Cervelo C
bikes also provide a frame geometry with a little less reach and stack than the other Cervelo road bikes in most sizes. This means that there are Cervelo models that cover a broader range of riders than ever in terms of fit.
The Cervelo C series of bikes is more than just disc brakes, wider tires and a little different fit though. The layup of the frame and the handling based variables of the frame are engineered specifically for the needs of a rider travelling at a real variety of speeds on different surfaces. A bottom bracket that is about 1cm lower than other Cervelo road bikes helps lower the center of gravity on the Cervelo C3 and C5 is combined with more relaxed headtube angles and long stays to maximize stability. The entire design of all C Series bikes is also disc brake specific and includes forward thinking thru axle design and flat mount brakes. The Cervelo C-Series bikes are arguably Cervelo's most versatile road bikes. They are very well suited for exploring backroads and main roads alike.
"P" Bikes by Cervelo Cycles:
Cervelo's "P" series of bikes are dedicated to triathlon and time trial use; they are also where Cervelo as a brand originated and changed the entire marketplace.   Built on the success of the "P" bikes, Cervelo has become the biggest producer of triathlon bikes in the world.   The basic premise of the Cervelo aero tube shape from the mid '90's is still evident in Cervelo's TT/Tri bikes today.  The precisely shaped teardrop tubing shape that was the early hallmark of a Cervelo lives on today, but the materials and details have all changed.  Today, aluminum has been replaced by carbon
fiber.  The change in materials opened up a world of design and shaping options and Cervelo has really focused on the subtle details of frame shape to maximize aerodynamics without restricting what bars, stems and saddles may be used with their frames as many other manufacturers have done.   Despite this, Cervelo remains the benchmark that all other brands compare aerodynamically.
From a fit perspective, the Cervelo P5 was the first Cervelo model to offer Cervelo's updated TT/Tri geometry.  The current Cervelo P series geometry offers a more moderate stack and reach compared to the previous Cervelo TT/Tri geometry and this has really helped their models fit a broader number of athletes well.  Likewise, the Cervelo P3 was updated to the new P5 based geometry in '13, the Cervelo P2 received the same upgrade for '14 and the landmark Cervelo P5X introduced at the tail end of 2016 is based on the same geometry tenets.  Cervelo's TT/Tri frames now fit a wide range of riders well and offer stability and handling characteristics better suited to triathletes than the previous generation of Cervelo aero bikes without diminishing the responsiveness for the dedicated TT rider.